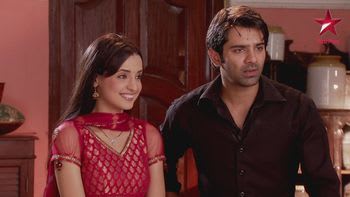 Edited June 2018
Hello Hi peepools!
Kaisan ho Nandkisore! Sab kushal mangal? Welcome to all you IPK fans from all over the world. In June 2011 Arnav and Khushi entered our lives and swept us away with their onscreen magic. And the wonder is that out of sight is not out of mind, they continue to reside in our hearts. Questions and dreams haunt us – how did they live their lives after marriage, did ASR really turn into the mushy hen-pecked husband and Khushi the what the wife who couldnt even tell her husband about her pregnancy as shown in Ek Jashan Yahan Bhi? Nah, couldnt quite swallow that!
Surely they would have stayed true to their characters and journeyed through lives despite their differences bickering, fighting, arguing, romancing, and raising children?
Children! How many did they have? How did ASR react? How did Khushi cope? Were the children like Arnav or Khushi? And what about Di? What happened to her? Did she continue to stay at RM? Did….oh so many questions and no answers!
Hence Silver Streaks – a story of their lives spanning over two decades of their lives including new characters, especially the children – Anya, Ankit, Devansh and Angelika. I have begun re-posting Silver Streaks (about 494 500 chapters long) in the hope you too would like to accompany them on this journey through life. And even if you have already read it, I would love to read it again with you!
If you are not quite sure if you would like to jump in for such a long journey, do click on any of the links below for some shorter pieces based on the characters of Silver Streaks and Arnav and Khushi's lives after marriage
And since you are here, how about browsing through the blog – who knows you may find something to your liking?
Short stories (including flash fiction) or the long rambling yarn (now completed) Moonshine, the A to Z of the Great Indian Wedding and lots and lots of photos under Clicks and Pics
No? Not interested? Just want to read #ipkknd #arshi related stuff? Ah well that river seems to have dried up on this blog but then again there are plenty of other IPK sagas in the cyber world – so go forth and search them out and let me know too 😀
But before you go, one last question – did you watch IPKKND Season 3 and tear your hair out in frustration? Why bhorries when Khulsa Mami is here? Come and read about the insane season 3 from KMami's perspective – Khulasa Times
Don't forget to let me know you were here 🙂
Cheers
DM (urf Dahlia Mami)